Home | Buy a Piece of the Berlin Wall | Large Pieces | Medium Pieces | Photo Gallery | Expedition Journal | The Sign | Post Your Stories | Complete Sections | Updated 11/2019
The 30th Anniversary of the Opening of the Berlin Wall:
What's Your Berlin Wall Memories, History and Observations?
In this 25th anniversary year of the fall of the Berlin Wall, you are invited to share your experiences. Were you in Berlin, East Germany, other Eastern European countries or the Soviet Union in 1989-1991 at the time the Communist dictatorships fell? Share with people from around the world YOUR stories, photos, observations, and feelings during this exciting and historic period!

Send your stories and photos via Email for posting here!
---
I viewed your wall page today and was reminded of my time in Germany (10 years) and dug up my chunk that I broke off of the wall at the Pottsdam rd crossing. I took it from the inside wall in the alley on the East German side. You know the saying God protects fools and drunks? That day my friends and I were pretty drunk and we wandered about 2 Klicks of no mans land looking at the towers and such only to find out the next week that the East Germans had not been able to clear all the land mines out!
I had a great time when I lived in Germany, I also got to attend the Wall Concert in Berlin. I lived in Frankfurt from about 1985 to the start of the Gulf War (1991), which I attended from start to finish. When I got back to Germany I spent one more year there and went back to the States.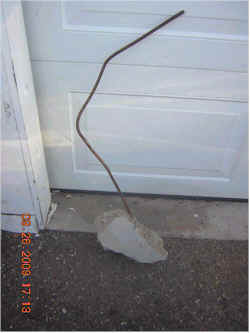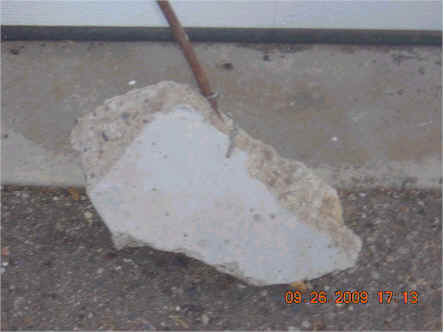 Just thought you might like to see another chunk floating around!
James H.
Editor's note: Note that this Wall from the East side was painted white--to make it easier to spot escapees, and graffiti might also have been a shooting offense in East Berlin!
---
What's your story? Email it and any photos to be posted here!
---
Purchase a Piece of History
Order Your Piece of the Berlin Wall Today
E-Mail Contact

Prints and high-resolution scans of photos in the photo gallery are available for purchase.
The potent symbol of Communist tyranny became the site of celebration on November 9, 1989, as the wall opened for the first time since 1961. Freedom wins! Now you can own a piece of true history - the Berlin Wall.
Tell a friend about this site!

www. Berlin-Wall.Net "Berlin dash Wall dot Net"
All contents and photographs Copyright © 2019 - 1989 Art Harman All rights reserved.
Home | Buy a Piece of the Berlin Wall | Large Pieces | Medium Pieces | Photo Gallery | Expedition Journal | The Sign | Post Your Stories | Complete Sections